Have you ever needed to view a website on a different device but didn't have the page open? That's when you wish there was a way to sync your open tabs across devices. Well, there is. Google Chrome allows you to sync tabs across devices using your Google account. So, if you can't find the tab that you need because you're browsing on a different device, you can easily access your open tabs on the cloud.
How To Sync Your Chrome Tabs Across Devices?
If you're like most people, you probably use multiple devices throughout the day. And if you're a Chrome user, you probably want to be able to access your tabs from all of your devices. Fortunately, there's an easy way to do this.
First, make sure you're signed in to Chrome on all of your devices. 

Then, go to the "Settings" menu and click "Advanced sync settings."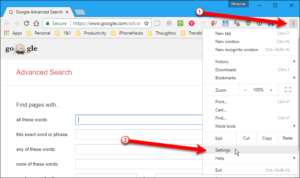 From there, you can choose which data you want to sync across devices. 

Make sure the "Tabs" option is selected, and you're all set!

Now, whenever you open Chrome on any of your devices, you'll see all of your open tabs from all of your other devices.

If you accidentally closed any tab, you can always reopen closed tabs on chrome easily. 
This is a great way to stay organized and make sure you're always on the same page, literally.
How To Access Your Synced Tabs Across Devices?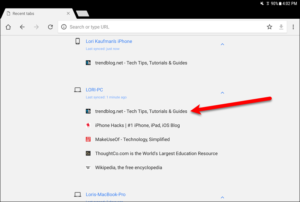 If you have multiple devices, you can keep your tabs in sync across them all. To do this, you'll need to sign in to your account on each device. Once you're signed in, your tabs will automatically sync across all of your devices. You can access your synced tabs by opening the tab manager on any of your devices.
Alternative Method: 
Another way is to use a third-party service like Xmarks or TabSync. These services will sync your tabs across all of your devices, regardless of which web browser you are using. Finally, you can use a tool like Pushbullet to send tabs from one device to another. This can be useful if you need to quickly access a tab that is only open on one device.
Read More: How To Customize Chrome Background | Detailed Guide
How To Set Up Chrome On Multiple Devices?
There are a few things you need to do in order to set up Chrome on multiple devices. 
First, you need to download the Chrome browser onto each device.

Once Chrome is downloaded, you will need to sign in with your Google account. 

Once you are signed in, you can then sync your bookmarks, history, and other settings across all of your devices.

To do this, you will need to go to the Chrome settings on each device and turn on the "Sync" option. 

Once you have done this, all of your devices will be connected and you can access your Chrome information from any of them.
Conclusion
With the ability to sync your Chrome tabs across devices, you'll be able to get a lot more done across a variety of platforms. As you move from computer to computer, you won't have to worry about losing your place when you have access to your open tabs from any device. Contact us if you have any questions about syncing your Chrome tabs across devices.