Spotify is a music streaming service that allows users to listen to their favorite songs and artists for free or with a paid subscription. While Spotify is great for finding new music and discovering old favorites, sometimes you may come across a song you want to listen to but is not showing up on the list. You can't figure out why – you just played it last week – but it is gone, hidden from view. To get your favorite songs back, this post shows how to unhide a song on Spotify on different operating systems.
What are the Causes of Hidden Songs On Spotify?
When you search for a song on Spotify, and it's hidden, the following reasons could be behind it: 
The song is no longer available on Spotify.

An artist or record label removed it from Spotify.

The song is not available in your country.

You don't have a Premium subscription, so you can't listen to certain songs.

There's a problem with your internet connection.

You might be using another Spotify song template

Maybe the songs are part of a playlist that is not public.

Due to some copyright issues, the song is unavailable.
Read More: How to Download Apk on iPhone?
What are the Reasons for Deleted Songs on Spotify?
If you are a Spotify user, you may have noticed that some of your songs have been deleted from your library. There are a few potential causes for this:
Your subscription has lapsed

: If you are not currently subscribed to Spotify, you won't be able to listen to any of your saved songs. Make sure your subscription is up to date to avoid this issue.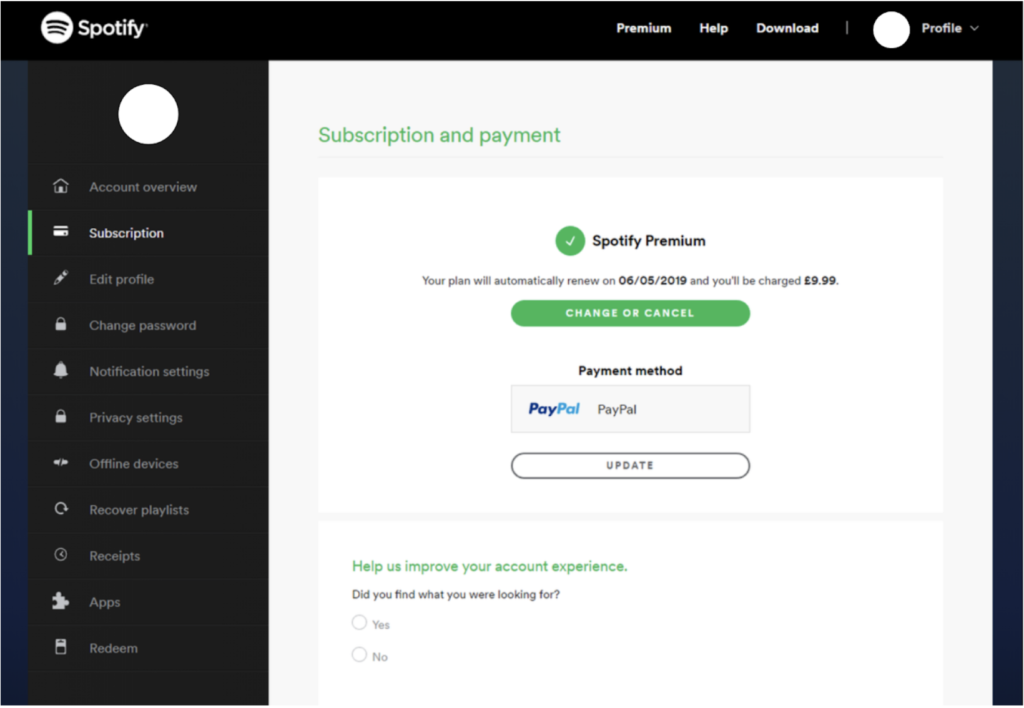 You have reached your device's storage limit

: Earlier, each Spotify account had a certain limit of songs per device. When you try to save more than that, the oldest songs will be deleted to make room for the new ones. But now, it is possible to save an unlimited number of songs but for that, you may need to have a premium subscription. 

The song was removed from Spotify's playlist

: Occasionally, songs are removed from Spotify's playlist. This could be for many reasons, including copyright issues or artist requests. In case a saved song is no longer available, it will be deleted from your library.

There was an issue with the file

: When there's something wrong with the file itself, Spotify may not be able to play it. This could be due to an incorrect file format or corruption.

A live version replaced the song

: In some cases, a Spotify song template will replace a studio recording of a song with a live version. This usually happens when the live version is better quality or more popular than the original.

You accidentally deleted the song

: It's easy to accidentally delete a song from your Spotify library. If you think this might be what happened, you can check your Recently Deleted playlist to see whether the song is there or not. When it is, you can restore it to your library.
Now let's learn how to unhide a song on Spotify on various Operating Systems.
How to Unhide a Song on Spotify on Different Operating Systems?
To unhide a hidden Spotify song on Android and iOS, you will have to – set Spotify to make unplayable songs visible and manually unhide the song. Here are the steps for both actions: 
Show Unplayable Songs on Spotify
To unhide a song on Spotify, you first need to see it first; here's how:
On your mobile, open the Spotify app.  

Click on Settings.

Tap on Playback.

Now, besides hiding Unplayable Songs, you have to shift the button towards the left.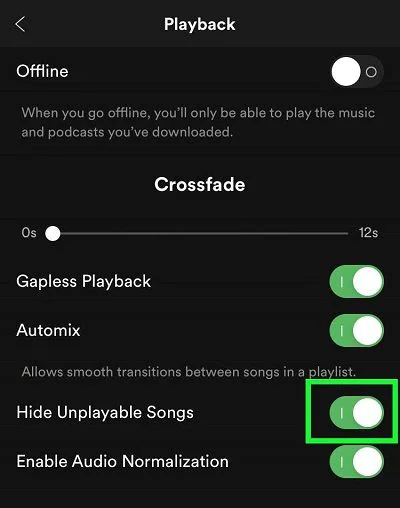 After making unplayable tracks on Spotify visible, you can move further to unhide them. 
iOS:
Firstly, click on the Home button.

Now tap on the Settings option. 

Navigate to Playback, and from there, off the Hide unplayable tracks.

After that, navigate back to the playlist and click on the "Hide" option once again. Now, you can see and listen to the song whenever you want. 
Android: 
From the Home option, go to Settings

Under Playback, turn the Show unplayable songs on.

After that, you have to click on the "Hide" option again.  
Desktop:
For the desktop, click on the Arrow facing downwards.

Navigate to Settings. 

From the Display Options, turn on the Show unavailable songs in playlists.

Finally, navigate back to the playlist and click on the "Hide" option.   
Also Read: How to Recover Spotify Playlists?
Some Last Words
Spotify is the most convenient way to listen to music, and it's easy to find the songs you want to hear. However, sometimes you may hide a song by accident, or you may want to listen to a song that was previously hidden. In this post, we have shown you how to unhide a song on Spotify easily. We hope this information was helpful!
Frequently Asked Questions 
Q1. Why is my Spotify not working?
There are a few potential reasons why Spotify may not be working. First, make sure that you have a strong and stable internet connection. If you are on a mobile device, check to see if you have enough data left for streaming. Sometimes, the problem may be with Spotify's servers; in this case, try restarting the app or resetting your device. Lastly, make sure that your account is in good standing by checking for any pending charges or subscription issues.
Q2. How do I listen to blocked songs on Spotify?
In order to get access to blocked songs on the Spotify song template, you can use VPN. Simply open the VPN. Now connect to a server with the region where your favorite songs are available. Now log in to your Spotify account and listen to the music. 
Q3. Is there any limit on how many songs I can add to Spotify?
Earlier, Spotify had a limit of 10,000 songs to add to your library. This included both local files and tracks from Spotify's vast catalog. Once you reached the 10,000-song limit, you had to delete some songs before adding new ones. But now, you can save an unlimited number of songs in your library.  
Q4. How to loop songs on Spotify?
If you want to keep a particular song playing on Spotify, you can use the "repeat" feature. Simply full-screen the song on your app by tapping on its name and opening the media controls. Find the repeat option (it appears like two arrows rotating). Click on this option to repeat the song and tap it twice to loop the song.