League of Legends by Riot is one of the most popular online games in the world, with millions of active players. It is a multiplayer online battle arena video game that throws thrilling challenges for players on every level. However, some players eventually decide to remove the game for various reasons. One common reason is that the game takes up a lot of storage space and can slow down a computer. Another reason is that some players might be facing bugs after updating it and might want to reinstall it. 
Whatever the reason, uninstalling League of Legends is a relatively simple process. In this article, we will show you how to uninstall League of Legends completely from your computer. Follow the instructions carefully, as incorrect procedures can result in data loss or damage to your system. 
Why you Might Face Problems while Uninstalling the Game?
There are many reasons why you might not be able to uninstall League of Legends. Here are some of the most common ones:
You don't have the correct permission

s: To uninstall League of Legends, you need to have Administrator rights on your computer. If you are not sure whether or not you have these rights, contact your IT department or the person who installed the game for you.

The game files are corrupt

: In case you have been experiencing errors or crashes while trying to play League of Legends, the game files may be corrupt. In this case, uninstalling and reinstalling the game may fix the problem.

You are using an outdated version of the game

: By using an outdated version of League of Legends, you may not be able to uninstall it. Update to the latest version of the game and try uninstalling again.

You have a virus

: If you think you may have a virus, it's important to scan your computer and remove any viruses before trying to uninstall League of Legends. Otherwise, the virus could prevent you from uninstalling the game or could cause other problems on your computer.

Third-party software

: Third-party software such as antivirus or firewall programs can sometimes interfere with the uninstallation process. To fix this, try temporarily disabling any third-party software before trying to do league of legends uninstalls again.
How to Uninstall League of Legends on Windows?
You can uninstall League of Legends by following the steps below:
Close League of Legends running in the background.

Open up the Control Panel on your computer by searching for "Control Panel" in the Start menu. 

In the Control Panel, find the "Programs and Features" or "Apps & Features" section.  

Locate League of Legends in the list of installed programs/applications. This will usually be alphabetical.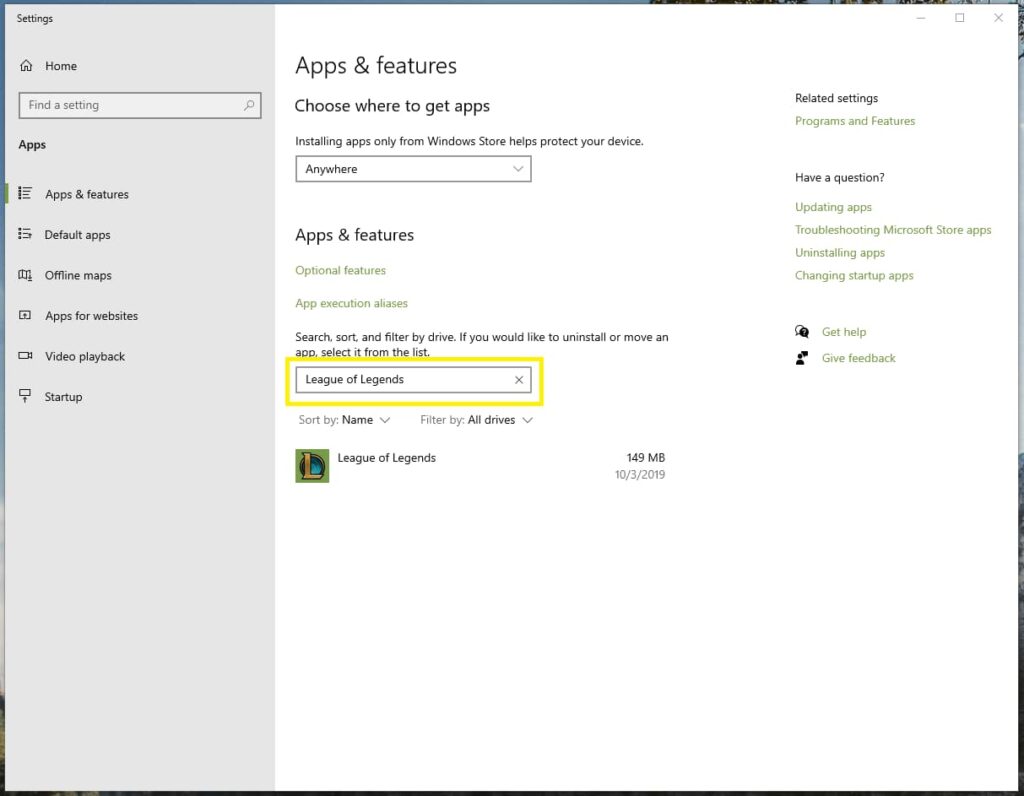 Once you have found League of Legends, right-click on it to select it, and then click the "Uninstall" button.

A confirmation window will pop up asking if you are sure you want to remove the game – click "Yes" to proceed.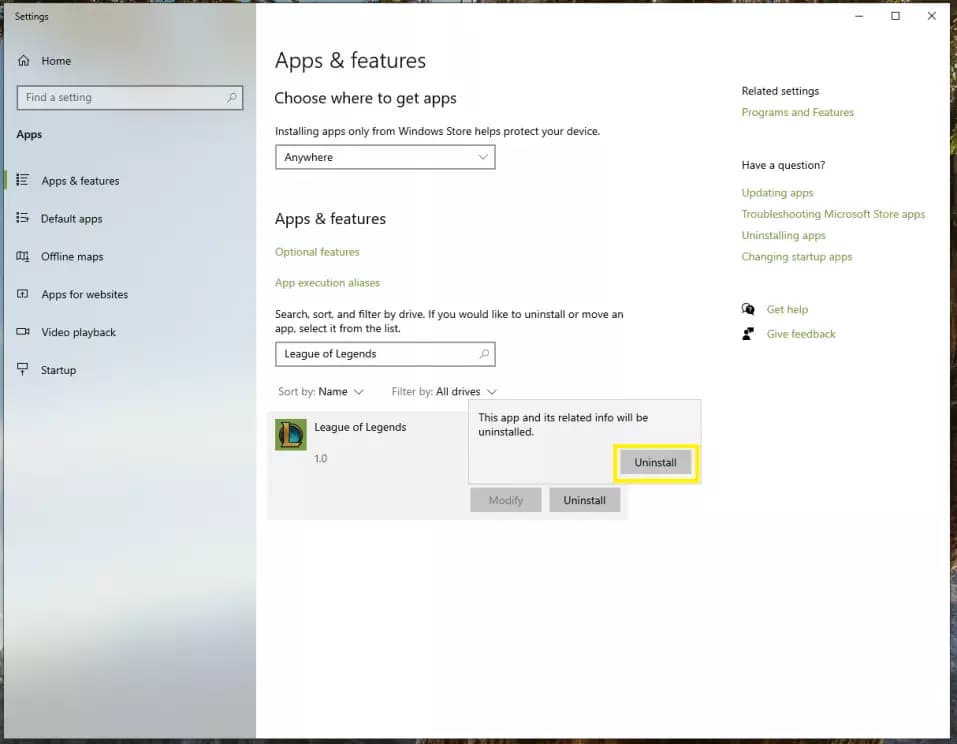 The uninstall process will now begin – once it's finished, League of Legends will be completely removed from your computer.
Looking to free some more space, go to the file directory and delete anything you don't need. For example, if you're trying to uninstall League of Legends, delete all the League-related files first. Once you have deleted everything, restart your PC before reinstalling League.
If you encounter problems during the uninstall process, it may be a sign of a larger issue within Windows. In this case, it may be beneficial to run a registry cleaner like CCleaner. 
How to Uninstall League of Legends on Mac?
For a Mac user who has been playing League of Legends, you may have noticed that there is no dedicated client for the game on your platform. MacBooks support only the US portal of the League of Legends which means you cannot play the game outside the US. Fortunately, Mac uninstall League of Legends can be completed by the following steps:
First, quit the League of Legends application.

Then, open the Finder and head to the Applications folder.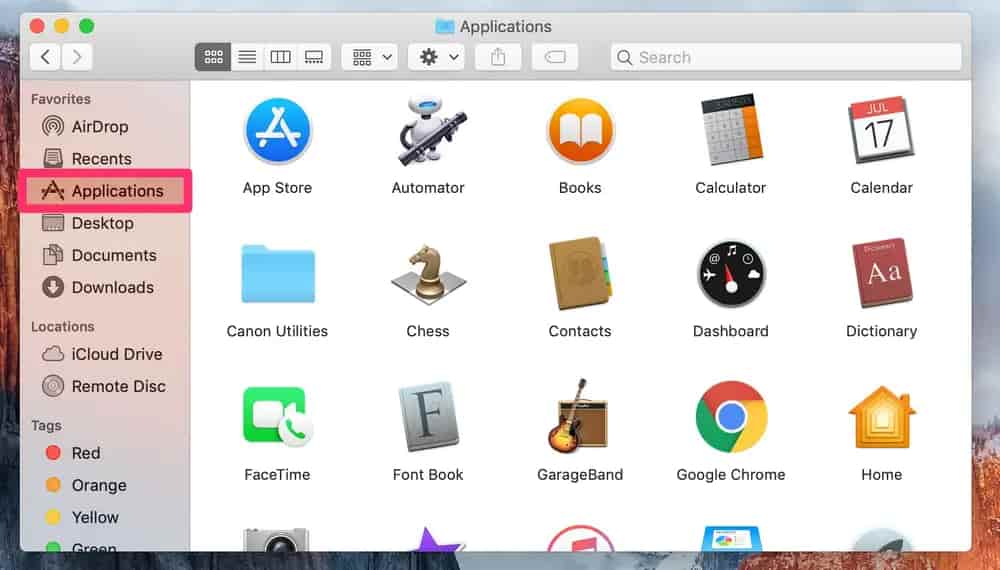 Locate the League of Legends folder and drag it to the Trash.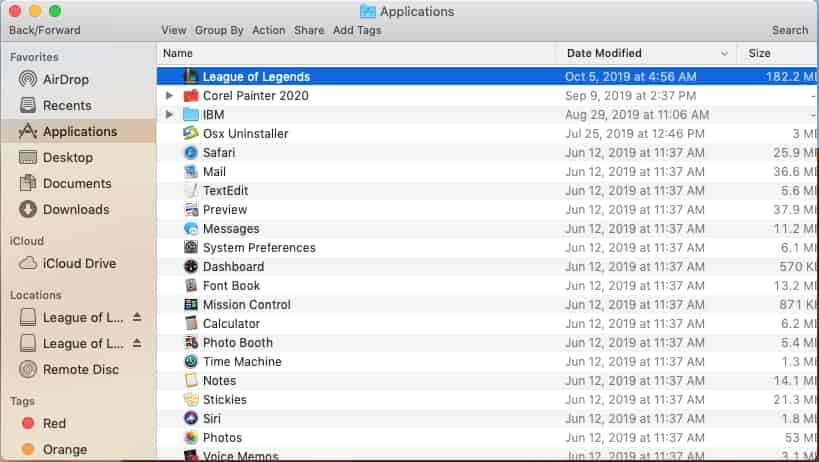 Finally, empty the Trash to complete the uninstallation.
Read More: How to Download Teatv on Firestick?
Once you have followed the steps above, League of Legends will no longer be installed on your Mac.
Conclusion
After following these steps, your League of Legends installation should be successfully uninstalled. We hope that this article was helpful and that you are now able to remove League of Legends without any issues. Although we cannot guarantee that uninstalling League of Legends will improve your computer's performance, you will likely see a decrease in CPU usage and an increase in memory after you uninstall the game.  
Frequently Asked Questions 
Q1. How do I uninstall League of Legends?
There are two ways to delete an account in League of Legends through the Windows Control Panel or via the game's uninstaller. We recommend using the game's uninstaller, as it will remove all files associated with League of Legends from your computer.
Q2. I'm having trouble uninstalling League of Legends. What should I do?
If you are having trouble uninstalling League of Legends, the first thing you should try is restarting your computer. Sometimes, simply restarting can fix whatever issue you face as it starts the system afresh. In case that doesn't work, you can try using a different uninstaller program.