If you're someone who hates reading long articles or if you're dyslexic, then this Google Chrome extension is definitely for you. It's called "Read Aloud- A text-to-speech voice reader" and what it does is it reads the text on any website out loud to you.
What Is A Read Aloud Extension?

A read-aloud extension is a browser extension that allows you to listen to web pages being read aloud. This can be useful for people who have difficulty reading, or for those who simply prefer to listen to content rather than read it. 
Learn More: How To Change Google Chrome Default Language | Full Guide
There are a number of different real-aloud extensions available, and they all work in slightly different ways. Some, like Read Aloud, allow you to select text on a web page and then have it read aloud. Others, like SpeakIt!, will read an entire web page aloud from top to bottom. 
Things To Keep In Mind Before Adding Read-Aloud Extension
There are a few things to keep in mind when using a read-aloud extension. 
First, not all extensions work with all browsers. 

Second, some extensions may not work with all websites.

And finally, some extensions may not work with all types of content. 
For example, Read Aloud may not work with PDFs or other types of files. If you're not sure whether an extension will work with a particular website or type of content, it's always best to try it out first.
How To Make The Browser Read Text To You- Read Aloud Extension?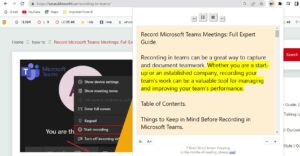 To get started:
Head over to the Chrome Web Store and install the Read Aloud extension. 

Once it's installed, you'll find a new icon in your toolbar that looks like a speaker. When you come across an article that you want to have read to you, simply click on the Read Aloud icon and it will start reading the text out loud. 

You can also adjust the reading speed, pause/resume, and jump to specific parts of the text. 

If you want to have the text highlighted as it's being read, simply click on the "Highlight" button. Once you're done, simply click on the "Stop" button. 

And that's it! You can now have Google Chrome read text aloud to you so that you can focus on other things or just relax.
Read Also: How To Reopen Closed Tabs In Google Chrome (Best Methods)
How Does Read Aloud Extension Work? 
Read Aloud supports over 40 languages and can read out the text at a speed that you can choose. When you install the Read Aloud extension in your Chrome browser, a small icon appears in the upper right corner of the browser. 
Click on the icon to turn on the extension. 

Now when you visit any web page, just click on the Read Aloud icon and it will start reading the page for you. 

You can also control the speed of reading, and there are options to pause, stop, or jump to the next or previous paragraph.
Conclusion
In this blog post, we talked about the Read Aloud extension for Google Chrome. If you aren't familiar with this extension, it basically allows you to use Google Chrome as an audiobook reader. You can download or upload the file you want to be read to you, then you can listen to it. This can be especially helpful to those who have trouble reading or have negative associations with it. It can also be helpful to those who have a hard time finding time to read. As you can see, there are many use cases for this extension.