HP just like any other printer can show some printing errors. And it's not something new for printer users because they all come across such issues frequently. After all, printers are just machines, right? One such issue that bothers users is that their HP colored printer is not printing colors properly. HP users face printing problems like colors are distorted, not aligned, or the printer prints the wrong colors. Such issues become extremely annoying when you need urgent prints for important work.
Several reasons are responsible for this issue like expired cartridges, or insufficient ink. Here, we have explained an easy-to-follow guide to fix the HP colored printer issue. First, let's look at the reasons why you're seeing this problem. This will help you come up with the most appropriate solutions to resolve it.
Causes Behind HP Printer Not Printing Color
An insufficient/empty ink cartridge.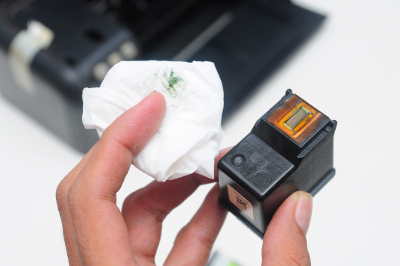 If there's a printhead issue.

The HP colored printer settings aren't adjusted properly.

The cartridge is incorrectly placed.  

Your printer is incorrectly connected via

 HP smart app

An old/outdated printer driver.
Solutions to Repair HP Printer Not Printing Color Issue
Read the instructions below one by one without missing a single step. Through these steps, the issue of the printer not printing in color will be repaired within minutes. Let's start.
Solution 1: Turn On Your Printer's Color Option
Navigate to the "Control Panel" from the PC.

Then, select the option "Printer and Scanner".  

Thereafter, from the list, select "HP Color Printer" and tap on "Properties".  

After that choose "Printing Preferences".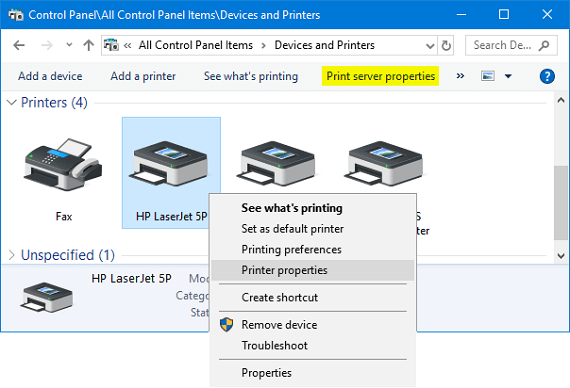 Moving on, hover to the tab "Paper/Quality" and click "Color". Hit "OK".
Solution 2: Inspect Your Ink Cartridge
Users mostly ignore this aspect while facing HP colored printer issues. So, they find themselves in situations like why won't my printer print again and again? The fact is you need to check your ink cartridge if it's expired, dried out, or is leaking. The steps are:
Firstly, replace cartridges that are running low on ink or have dried out.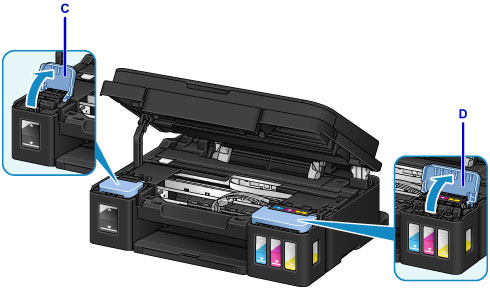 Make sure that ink cartridges are properly secured and correctly placed in the right slot.

Ensure removing the tape (orange in color) from the vent when you replaced the cartridge.

Make sure that the vents of the cartridges are blocked. This can be fixed by using a pin gently to clear the clog.

Try a different ink cartridge to see whether your printer is able to identify cartridges. If your printer was previously printing with an older cartridge, try installing the old cartridge again to see whether your printer can produce any output.
Just determine whether it's the cartridge or the printhead that's creating HP envy 4520 not printing issue. If your printer can print something using the old cartridge, it's not the printhead creating issues. Instead, the new black cartridge has issues and you need to replace it. 
Solution 3: Examine Ink Smears or Stains on Printouts Back Side
If you see smears or smudges of ink on the backside of the printed document then utilize an automated tool to repair the problem.
Check that your printer is filled with white plain paper.  

In the control panel, move across the left and then tap "Setup".  

Hit "Tools".  

Once done, click on "Clean Page Smears". Now the printer takes a blank page slowly.  

Then simply wait for your HP color printer to push out the black sheet. 
After that, try printing some documents. If the quality of the print is not satisfactory, proceed on to the next step and ensure to use the right papers for the print job.
Facing Ink Problems in Canon? Do Read: How To Change Ink in Canon Printer 
Solution 4: Enable Printer Color Command
Examine the default settings that your HP color printer uses. After that, activate the color option to resolve the HP colored printer issue quickly.
Follow these steps:
Tap on "Start", and choose "Settings".

Thereafter, click "Printers".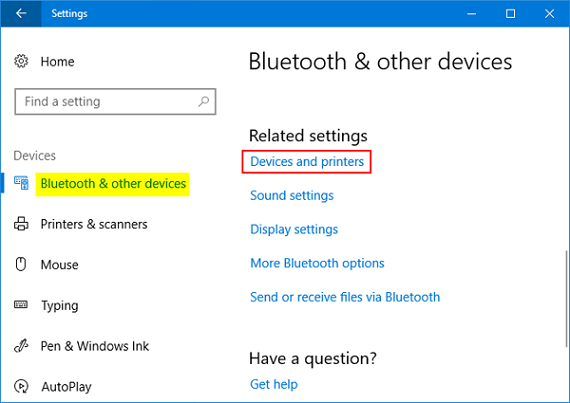 Now, right-tap on its icon and tap on "Properties".  

From there, hit "Printing preferences".  

Moving on, tap on "Paper/Quality" and then select "Color". Now press "OK". Thereafter exit the page.  

Then, print a test, and you will obtain the colored print.  

You can rectify the problem of printing in color by making sure whether the option "Grayscale" printing under "Printing Preferences" is disabled.
Solution 5: Loaded Print Queue
After finishing the printing job, your print queue clears itself on its own. But it does not always happen the same way, especially when some prints are jammed, delayed, or stopped because of network issues. If your queue gets loaded up, it could cause your printer to stop working.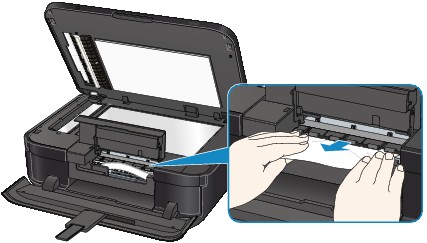 Most of the time, you need to click the printing option multiple times which causes more overloading issues. Print jobs that are stuck can block your queue and prevent jobs from reaching your printer. Also, it won't disappear whenever you delete it most of the time. So, what can you do to get rid of the queue and get the HP colored printer issue resolved? Here's the way.
Switch off your printer completely, then disconnect it from the power source.

Ensure you save the document that you are planning to print for future purposes. Once you have cleared your print queue, all printing jobs that aren't saved will be deleted.  

Open "Toolbar" or simply tap on "Start" and open "Windows Services".  

A list that will come up on the screen will show an option "Print Spooler". Right-tap on it and check out more options there. Now to halt any stuck prints, just tap "STOP".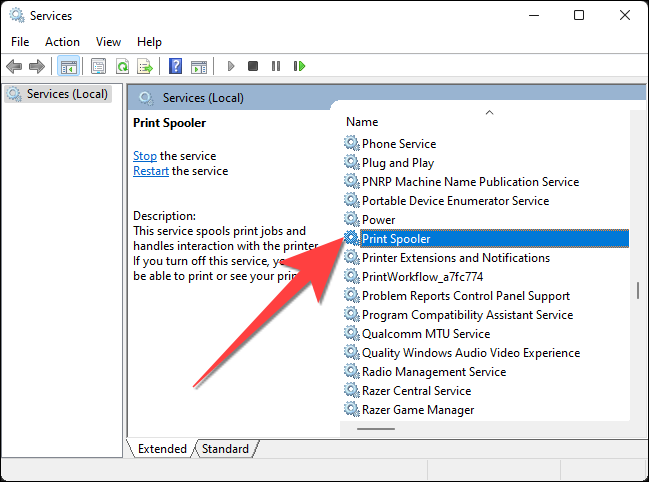 Once you've halted all print jobs using the spooler, write C:\Windows\System32\Spool\PRINTERS in the browser and search it.

Remove all documents in your queue. Then turn off your computer.

Connect your printer to the computer via the power button, and switch on your computer as well.  

You can restart "Printing Spooler".  

In the end, simply print your document. If it's working then you're done! You no longer will find yourself in situations like why is my printer not printing in color and what to do now?
If your Printing Queue Becomes Stuck and Then Freezes, Use These Alternatives:
– HP has a free application known as HP Print and Scan Doctor which you can download at no cost. The program can instantly identify common problems in your printer and fix the issues. 
– If you're having issues with queue jamming up, remove and then update your printer driver. This is because, sometimes, an old driver isn't compatible and blocks the printing process.
After reading this article, you'll be able to learn the best solutions to repair the HP colored Printer problem. Just follow these steps orderly and one at a time for the best results.
Frequently Asked Questions
Q1. Why wont my Printer Print in Color Repeatedly?
If you find that your HP Printer color is not printing in the paper, it's not a sign that your printer has stopped functioning. It could be because you can't print out anything, regardless of whether it's black or white, or in color. The most effective way to solve the issue would be to utilize high-quality HP cartridges, and not use duplicate cartridges. This solves the problem in a larger way. Also, you must properly clean the print head.
If your cartridge has issues, you should replace it and check whether the printer is working properly. If you're in a hurry to print an urgent document but aren't worried about the print quality, then print in backup mode.
Q2. How do I Deep Clean my Printer?
The first step is to open the window of your printer driver.

Hit the tab "Maintenance", now click "Deep Cleaning". When the dialog box appears, you need to select the ink group for the cleaning to be done.

Next, perform deep cleaning, and ensure that the printer is running, then tap "Execute".

Lastly, execute "Deep Cleaning" and examine the results.
Q3. How Do I Change My HP Colored Printer to Print in Color?
To do this, firstly tap on "Start" (on your desktop). After that hit "Devices and Printers". Thereafter, you must click on the printer you're using. Then, navigate to "Printing Preferences". After that, you'll see different printer settings, just select your Color option and set the settings according to your preference. Lastly, run a print test to ensure that the print is done in an appropriate manner.